'Electrifying' – 'extraordinarily animated' – 'featuring rare and natural charisma'….

These are words used to describe Fiona Pears, violinist and composer from Christchurch, New Zealand.
Describing her musical influencers as Stéphane Grappelli, Django Reinhardt, John Williams and Jean Luc Pointy, Pears performs Celtic, Classical, Tango, Jazz and Gypsy with equal ease, sometimes all in the same composition…
History
Aged five, Fiona was taken to a performance by violinist Carl Pini. She immediately fell in love with the sound of the instrument. "Apparently I stamped my feet and cried; 'I want a violin', and I got one in my Santa stocking that year!"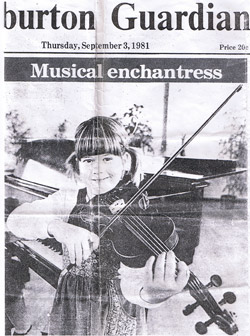 Her first public performance was at the age of six where she won first prize in a local competition.
By the age of twelve, Fiona was performing concertos with local orchestras on both piano and violin. In the same year she went on to lead the Christchurch Youth Orchestra and co-lead the New Zealand Secondary Schools Symphony Orchestra where she won two national music competitions, one in piano and the other in violin. Fiona then joined the Christchurch Symphony Orchestra at the age of fourteen.
By the time she was eighteen, Fiona had formed an interest in many kinds of music and started to explore Jazz, Gypsy, Latin and Celtic styles. She spent several years playing in a swing jazz group that recorded for Radio New Zealand and appeared at festivals nationwide.
In her early twenties, Fiona started to write her own music. She wanted to create something fresh and to fuse together the styles of music she loved to play. Since then Fiona hasn't looked back. She has gone on to release six CDs and three DVDs of her own music. Her 2008 release Fire and Light saw the realisation of a long-held dream. Fiona wrote twelve of the fourteen tracks and arranged them for band and full orchestra. She took the compositions to the Czech Republic and recorded them with the City of Prague Philharmonic.
"Fiona, along with her amazing band, will captivate you with her passionate and exuberant violin playing. She has become an international artist and composer and has matured into an effervescent and charismatic performer. Apart from her playing, she has continued to earn respect as a talented composer. Her music is often based on her life's experiences of travelling and meeting people as well as her love of many different musical styles."

— Nelson Jazz Festival
Fiona's subsequent albums Feeling and Swing Driven Thing have seen Fiona flourish as a composer and arranger. Alongside her music producer husband, Ian Tilley, Fiona writes orchestral scores for all of the albums Ian produces. Recent projects have been for classical artists Hayley Westenra, Aled Jones, Russell Watson, All Angels and the Choirboys.
Fiona continues to tour extensively and has performed and recorded with artists such as Dave Dobbyn, Hayley Westenra, Bic Runga, Heather Nova and the Christchurch Symphony Orchestra. She has also opened for artists such as Tony Bennett, Ottmar Liebert and the late Victor Bourge.
For Fiona's downloadable archive containing her full media kit, please click here.