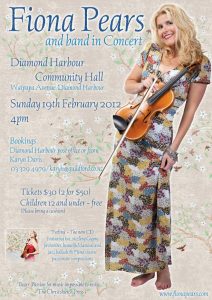 Tickets for Fiona's concert in Diamond Harbour next month are now on sale. Details below:
Diamond Harbour Community Hall
Waipapa Avenue, Diamond Harbour

Sunday 19th February 2012, 4pm.
Bookings:
Diamond Harbour post office
or from Karyn Davis: 03 329 4979 – karyn@guildford.co.nz.
Tickets $30, (2 for $50), Children 12 and under – free.
(Please bring a cushion).
You can download a hi-res poster for the concert by clicking here.