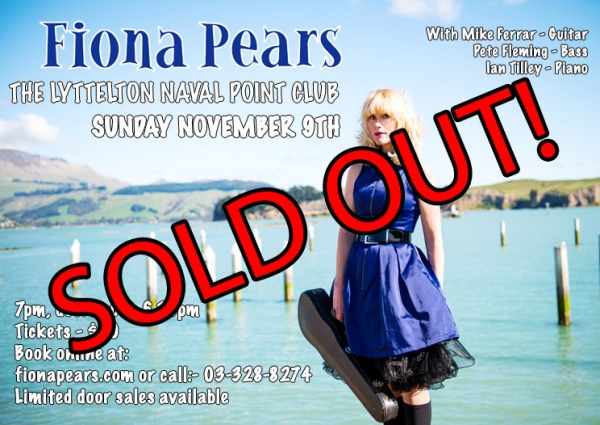 Announcing Fiona's first concert in Lyttelton for several years – Nov. 9th 2014
This concert is a celebration of the last few years of Fiona's touring and composing. Her latest CD Swing Driven Thing was released earlier this year during her nationwide tour. Fiona is now excited to finally be performing in her beloved hometown of Lyttelton.
It is several years since Fiona has performed in Lyttelton, and after having so many special memories performing at the Harbour Light, she is delighted to be performing at the Lyttelton Naval Point Club. Details below:-
Sunday November 9th at 7pm, doors open 6.30pm. Drinks available at the bar. Tickets – $30,
THIS CONCERT IS NOW SOLD OUT – LIMITED STANDING ROOM ONLY TICKETS AVAILABLE AT THE DOOR – $20
Featuring Mike Ferrar on guitar, Pete Fleming on double bass and Ian Tilley on piano.